Waste Disposal – the Ultimate Guide
---
Detailed Guide to Various Types of Waste Disposal for Householders
Are you looking for no-nonsense advice on Waste Disposal? Well, you've found it.
Here is our guide to everything you ever wanted to know on disposing of waste.  It is written and researched by people with over 30 years of experience in waste collection. Whether you are a home improver, DIY enthusiast, clutter-free consultant or property professional – there's something here for everyone.
Definition of Waste Disposal
What is rubbish clearance?
Containment of bulky waste
Types of Bulky Waste Collectors
Price - how much does a rubbish clearance cost?
Regulation of rubbish clearance
Fly-tipping - the illegal side of rubbish clearance
Rubbish Clearance for Specific Bulky Waste Types
Definition of Waste Disposal
The simple definition of 'Waste disposal' is getting rid of material or an item that no longer has a useful life. It is subletly different from expressions like 'waste removal' or 'waste collection'.  These latter terms involve the moving of the waste from a site to a disposal facility. Waste disposal can arise in one of three ways.
1) as a result of a reactive collection (often referred to as 'rubbish clearance').
2) a scheduled waste collection (normally your council waste collection). Or
3),when you deliver waste to a disposal site yourself (ie. when you drive stuff to your local recycling centre).  
What is Rubbish clearance? 
Rubbish clearance is a process carried out by hand or machine. When a person lifts the waste and carries it to a vehicle, it is often called 'handballing'. The service is known as 'including labour'. Rubbish clearance by machine is when a grab lorry (see below) scoops up the waste and puts it in the back. Grabbers are generally only used for jobs with large amounts of loose earth and rubble. A digger that scoops and carries the loose waste into a container or nearby lorry offers a similar solution. For smaller jobs, it's more normal for people to use wheelbarrows.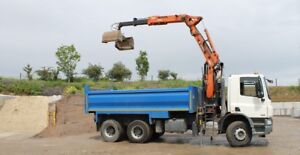 Containment of waste
There are four main ways to store rubbish pending its disposal:
Loose – the waste is stacked or piled loosely without containment. As such, it will need to be removed by hand and carried to the vehicle (or a grabber lorry used). 

Hippo bag or skip bag – a builder style bag that the waste creator fills in advance of collection. A waste collection company then collects the bag using a mechanical hoist to lift it onto the lorry. Alternatively, the bag can be emptied manually—more info

hippo bag collection and skip bag collection here

. 

Skip – a skip is a metal container dropped off empty at the property. It is filled by the waste creator, then collected by the skip provider and emptied. Skips come in various sizes and require a permit if you place them on a public highway.

Wheelie Bin - when you have so much rubbish (eg, packaging from a furniture delivery) you cannot fit it into your wheelie bin.

Too much waste for your wheelie bin

 is an increasing problem, especially with the surge in Amazon deliveries.
Types of Bulky Waste Disposal Collectors
This is a summary of bulky waste collection services.  Check out our guide for more detail.
a) Waste removal contractors
Licensed waste operators that charge to remove waste. They include man & van collection businesses, skip hire companies, and skip bag providers.  If you're willing to pay for disposal and need the waste removed quickly, then these are your first choice.  
b) Retailer take-back service
Some retailers offer a disposal solution for the old item being replaced. This service is often referred to as a 'take-back service'. It is particularly popular with mattress, furniture and appliance retailers and also kitchen and bathroom companies.  Large retailers of electrical appliances are legally obliged to offer an in-store waste electrical take back service. It looks like extended producer responsibility will in due course being applied to furniture retailers too.
Retailer take-back is normally reasonably well priced. Retailers often subsidise the service to encourage you to buy the new item. It is also convenient because they organise for you at the same time as the delivery. However, it is only available to customers who are buying a replacement item. Not the general public.
c) Council 
Councils take away your every day waste on a weekly or fortnightly basis
In additon, almost every council offers a low cost bulky item collection service to householders.  Typically the service just covers Clean Junk (ie. non-DIY / builder style waste).  The cost depends on your local authority.  Councils each have their own set of permitted and prohibited items. For example, some won't accept fridges or anything remotely DIY waste,. Whereas some actually allow you to dispose of an entire garden shed. Waiting times vary depending on how busy they are and how much capacity they have. Although you should certainly expect to wait at least 1 week and in some instances up to 8 weeks! Most councils do not collect from within the property.  Read our guide to London council bulky waste disposal.
d) DIY - Remove it yourself
Everyone is allowed to transport their own rubbish to a disposal site. If you are a householder, this means the local tip or household waste recycling centre. If you are a business, this means a licensed commercial disposal facility (or to another property under your control). For householders, this option is particularly appealing because HWRCs are mostly free to use.
The downsides are the time it takes to do this. The drive to and from the tip and the queue times, particuarly at peak times, can be long. Plus you need for a vehicle to transport your junk. In practise, if you have the time and a car, it's perfect for smaller items that you can fit in your boot. However, for larger furniture, major DIY waste, and bulky garden refuse another disposal option may be required.
e) Reusers
Assuming your bulky item is is good condition, then reuse is obviously a great solution. Reusers comprise everyone from reuse charities, social enterprises, and house clearance businesses to individuals who want second hand items. You can find these on platforms like Freecycle, Freegle, eBay, Facebook Marketplace, Gumtree and NextDoor.
For more reuse ideas and information, take a look at this Ultimate Guide to Furniture Reuse blog.
Price - how much does a waste disposal cost?
The cost of waste disposal depends on the solution used:  
a) Taking it to the Tip is free 
Disposal is free if you remove the waste yourself by taking it to your local tip. Obviously this assumes you have a vehicle and you have the time to do it!
b) Council collection service is cheap -
The price of a council bulky waste collection is subsidised but rarely free (only 11 councils in England offer a free service). Rates vary across the country, with the average price for removal of a single item around £28.
c) Using a private contractor
A contractor will cost money, unless your rubbish has a resale value. These are price guides (with lots of photo examples) of how much people are paying waste collection companies today to dispose of different types of bulky waste. eg. trade/diy waste, bulky waste, hippo bags, mattresses, fridges and sofas. For a wider selection of waste types, visit the LoveJunk price gallery.
6. Factors affecting waste disposal price
The cost of waste disposal is driven by a whole range of factors, of which the main are:
a) weight
Costs of disposal are driven by weight. Light waste generally costs less than heavy waste. By way of background, when a collector's waste vehicle enters a disposal facility it is weighed on arrival. Then, having offloaded the waste, it is weighed on exit.  The collector is then charged on the weight difference. The disposal rate is based on the type of waste delivered. 
b) waste type
In most instances, the rubbish type is unsegregated mixed non-hazardous waste ('Mixed General Waste'). But where segregation occurs prior to disposal, the waste type can be one of many sub-sets (eg. light ferrous metal, inert, wood, cardboard, green waste). As a rule of thumb, mixed general waste is the most expensive to dispose of because it requires the disposal facility to do the most work.  In other words, they have to segregate and sort it themselves in order to extract the recyclable materials.
c) geography
The cost of waste disposal varies quite a bit. It depends on differing costs of labour, rent, proximity to waste to energy plants and landfill sites, and local government subsidy. 
7. Regulation of waste disposal
This subject is a blog in itself. But the most important bit is that anyone receiving waste to process it for disposal must have a environmental permit to do so. These permits are issued by the Environment Agency or SEPA if you're based in Scotland. 
8. Fly-tipping - the illegal side of rubbish clearance
Dumping waste on public or private land without consent is illegal and referred to as fly-tipping. If it is tipped on private land, it is the responsibility of the landowner to remove and dispose of it safely.  When tipped on public land, it is the responsibility of the local council.
Whenever a private waste contractor offers you a price that seems too good to be true, it probably is.  All waste collectors on the LoveJunk platform are licensed by the Environment Agency. They also provide disposal proof after each collection.  That way you can always rest assured knowing your waste has been disposed of responsibly.
9. Disposal of Specific Waste Types
Garden waste 
If you need to dispose of garden waste you can use your local council's green waste collection service. You can also pay a man & van waste contractor, hire a skip, use a skip bag, turn it into compost or burn it. Read our garden waste disposal guide for lots more background. That said, if you're in a hurry, click this link to find your cheapest garden waste removal company in seconds.
Garden shed disposal 
Sheds are often classed as DIY waste by councils. This means they will not be collected as part of the council's bulky waste collection service.  So, you will either have to take the dismantled shed to your Household Waste Recycling sites or pay a man and van waste company to remove it. For full detail, read out garden shed disposal guide.
Fridge disposal
When you no longer want your fridge (assuming you cannot sell or donate it) you can take it to the council tip. Or you can book a council bulky waste collection or hire a waste removal company.
Check out our fridge disposal guide for detailed info on each option, including links to how much councils charge for collection of a fridge. If you simply want it gone asap, go to our fridge recycling page now to find the cheapest available collector today.
House clearance
Clearing a whole property rather than just a few items is a much larger undertaking. For a stress-free house clearance, we strongly recommend you read our house clearance guide. This covers the pros and cons of doing it yourself and using a specialist as well as some tried and test ways to approach the challenge. And, if any of your furniture is in good condition, check out this furniture reuse and donation blog to save a few trips to the tip!  
Carpets & flooring disposal
When you have a new carpet fitted, you're usually left with the old carpet, offcut underlay, gripper rods and packaging to dispose of.  The following are the main disposal solutions to consider:
paying your carpet fitter to take the carpet away;
using a carpet retailer take-back service; or
taking the carpet to your local tip or paying for a man & van/skip to remove the waste.
Read our how-to guides for more in-depth guidance on carpet disposal and carpet uplift and removal.
Bulky Appliances - cooker, tumble dryer, dishwasher
The easiest option is to see if your retailer offers a take-back service when you buy a new appliance through them.  When that's not an option, you could take the junk to your local HWRC. Or you could see if any scrap metal collectors are interested.
Whenever it's still in decent condition, you may also want to give the reuse and resale market a try.  However, if you're happy to pay for the disposal, you could use your council bulky waste collection service or you could use a private waste contractor (like us!).  Check out our dishwasher disposal guide for more info on getting rid of a bulky appliance.
Wheelie bin waste
Sometimes we have too much rubbish for our wheelie bin. And it's a problem knowing what to do with the waste until your next bin collection.  So, if you're struggling and need the waste gone asap, there are a few ways to solve the problem.
For those of you in a hurry, your fastest option is to pay a man & van waste team to collect your waste.  Collectors on the LoveJunk marketplace typically charge around £10-£50 to remove excess wheelie bin rubbish.  Alternatively there are some other solutions such as separating your waste into the correct recycling streams. This will reduce the amount of waste ending up in the wheelie bin. Longer temr you could also request a larger or extra wheelie bin from your council.
Read our blog for what to do with too much rubbish for your wheelie bin for further guidance, or click the following link to find your nearest and cheapest wheelie bin waste collection form a private waste contractor.
Kitchen installation waste disposal
The price of kitchen installation waste disposal depends on the size of the kitchen you're replacing and if you need to dispose of the old kitchen.  Typically, the waste is offcuts, packaging waste, small hazardous items, and the old kitchen. It often also includes any reusable packaging waste that can be sent back to the manufacturer (ie. the 'pizza boxes' used to protect countertops).  Here's a breakdown of waste generated from kitchen & bathroom installation work.
Builders waste & rubble disposal
Disposing of builders/DIY waste is generally more expensive than light bulky waste.  You could remove the waste yourself by taking it to your local civic amenity site. Alternativey, you could pay someone else to take the waste away by using your local councils collection service or employ a licensed waste contractor.
We've created a handy guide for tradespeople on how to dispose of trade waste and another for householders on rubble removal. You can see trade waste disposal costs here.  You can be matched with a trade waste removal company on the LoveJunk marketplace in seconds.
Piano Disposal
Getting rid of a piano can be tricky. Its size and weight makes it difficult to move it from A to B.  There are companies that specialise in piano removals or you could pay a local waste team to collect and dispose of the piano for you.  However, it's always worth seeing if anyone is interested in taking your piano off of your hands for free.
Various online websites allow you to donate or sell your piano, such as Facebook Marketplace.  If the transportation of the piano is an issue, you could specify in your online listing that the piano is collection only.  For more detail and advice check out our Piano disposal guide.
Hazardous waste, including asbestos
Here is a list of hazardous waste. We recommend leaving hazardous waste and asbestos disposal to the professionals. However, if you're planning to handle any kind of hazardous waste disposal yourself, please ensure you take extreme care and wear appropriate PPE.
Same day rubbish clearance service
If you're in a rush and need waste removed on the same day, don't panic. Just read our guide to same day rubbish removal. It covers all of the various options you can try including a drive to the tip, using a man & van waste service, and hiring a wait & load skip.  But definitely don't bother with using your local council bulky waste collection service. The chances of availability on the same day are slim to none.
---