Rubble Removal: Disposal of Bricks and Rubble
---
Rubble removal near me: how to dispose of bricks and DIY waste cheaply
Need to dispose of rubble and bricks after some home improvement or construction work? Here is our guide on everything you need to know about rubble removal.
This guide covers the following:
What is rubble?
Where to get rid of bricks near me?
How much does rubble weigh?
Can I take it to my local tip?
Can you reuse rubble?
Are you allowed to put bricks in a general waste skip?
Can I put rubble in a hippo bag?

Hiring a grab lorry for rubble disposal

Is it OK to bury rubble in your garden?
Will the council take away my rubble?
How much does it cost to dispose of rubble near me?
1. What is rubble?
Rubble is broken fragments of construction and demolition waste.  This includes stone, clay, bricks, cement, tiles, ceramics, sand, paving slabs and more. 
2. Where to get rid of bricks near me?
The main methods for disposing of bricks and rubble locally are 1) pay a nearby licensed waste carrier to remove them; 2) take it to your local tip or recycling centre; 3) hire a skip ; 4) use a hippo bag or skip bag; 5) use a grab lorry (large amounts only); or 6) give them away for reuse (if your bricks are in good condition).  We discuss each option in more detail below.
3. How much does rubble weigh?
Rubble weighs roughly 30-50k per filled bag and around 250-400kg per cubic yard.  If you use a waste contractor to remove your rubble, the weight of your waste will affect the cost of collection. Therefore, it is important to take weight into consideration.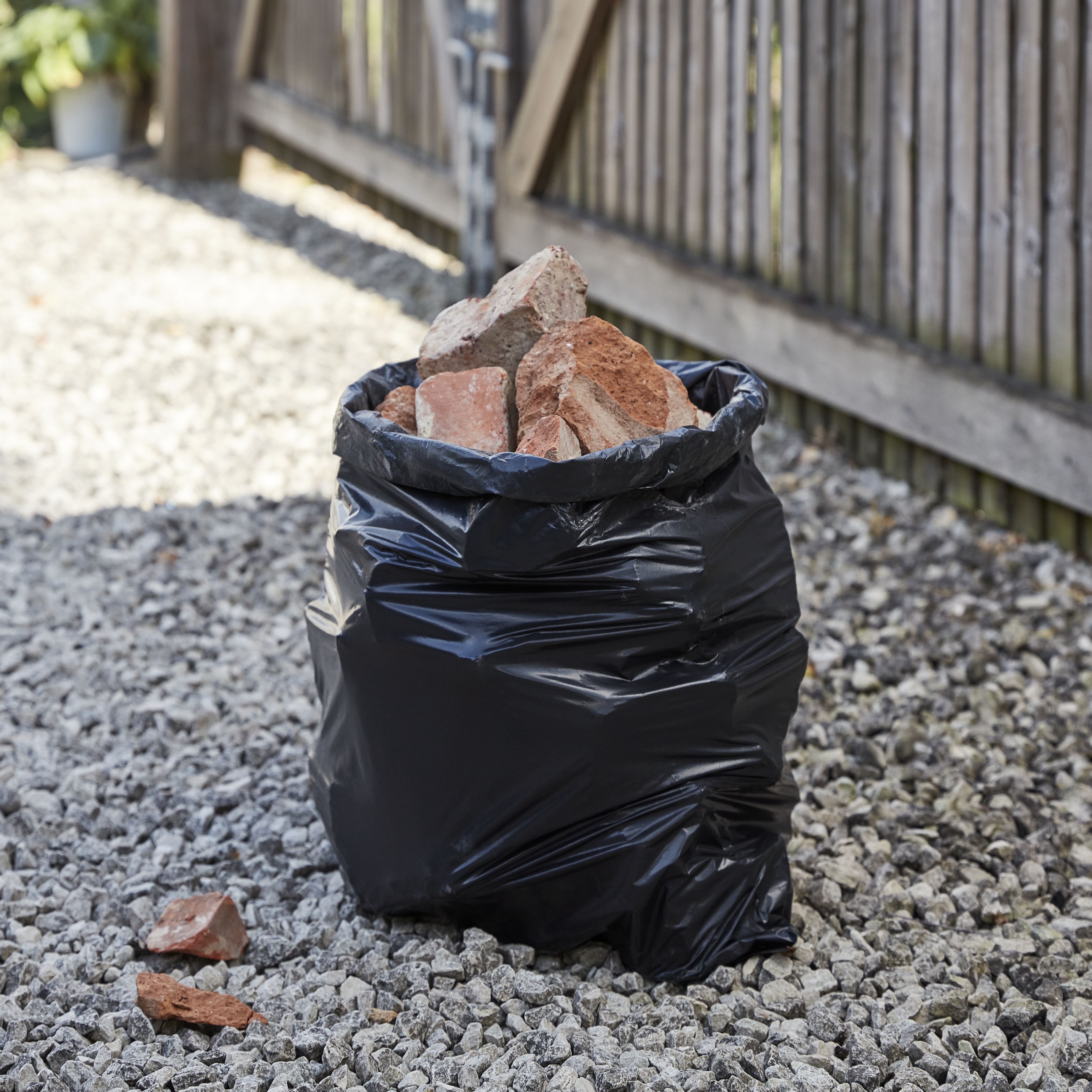 4. Can I take rubble to my local tip?
Yes, you can dispose of rubble at your local tip or council recycling centre. However, rubble is treated as a type of DIY, builder or construction waste, which is often charged for at tips. For example, Hampshire council charges £3 per rubble bag and £3 per individual item (i.e. toilet bowl).
5. Can you reuse rubble?
Good quality bricks and tiles can definitely be reused as a means of cheap disposal. Small amounts of bricks in particular are ideal for building small things in the garden like a barbecue or fire pit. Larger amounts might be of interest to builders and other DIY'ers.
Well known online places to try to reuse things include Freegle, Gumtree, Freecycle, Facebook Marketplace and NextDoor.  But if you want it sorted quickly - then just post it on LoveJunk, marking it as reusable and making sure you take some very clear photos and describe the dimensions and numbers in as much detail as possible. The chances are you'll find a match very quickly.
6. Can you put bricks in a general waste skip?
Yes. You can put bricks and rubble in a general waste skip. General waste or mixed waste skips can be used to dispose of any type of non-hazardous waste. In other words, everything from rubble and bricks to furniture and flooring.  
However, if you have a large amount of rubble for removal, then it might be better to order an Inert Waste Skip, rather than Mixed Waste Skip.  Inert Waste Skips are for inert waste only which is material that does not decompose (and therefore can be used again in the building process) like clay, cement, hardcore, sand, concrete and rubble.
The great thing about Inert Skips is that they are considerably cheaper than mixed waste skips. For example, a 6-yard mixed waste skip might cost £250 + VAT, whereas an inert skip of the same size would only cost £180 + VAT. This is because inert waste can be used in construction, so has resale value.  Howewer, you must let the skip provider know in advance that you want one, otherwise, they will book it as a mixed waste skip and charge you at that rate.
7. Can you put rubble in a Hippo bag?
Yes, you can dispose of rubble and bricks using a Hippo bag, skip bag or Hippobag alternative.  These sorts of bags are made of heavy-duty, strong material and the biggest are designed to hold up to 1.5 tonnes of waste.
Note: if you're thinking of using a Hippobag, check out our guides to what you can and can't put in a skip bag, Hippobag discounts and how much it costs to collect a Hippobag.
8. Hiring a grab lorry for rubble disposal
Included in this article abotu rubble removal near me for completeness but very unlikely to be used, grab lorries are large trucks with a mechanical, scooping arm that can pick up loose rubbish and load it into the back. They are regularly used on large building sites but hardly ever for small amounts of rubble and bricks created from home DIY. You can see an example here.
That said, they are worth considering if you are unable to get a skip permit or the waste is situated over a fence and employing a grabber will save a lot of labour.
9. Can you bury rubble in your garden?
You can bury rubble in your garden but there are a few things to consider before you do.  Firstly, burying rubble could potentially pollute your soil and affect the quality of plants you decide to grow.  There is a lot of debate in the gardening world as to whether or not you should bury rubble and how much effect it has on plants/soil. Check out this gardening forum discussion as an example.
Secondly, it's much easier to bury it than dig it back up.  So, if at any point you needed to dig it back up, it would take a lot of effort.  Also, when it comes to selling your home (or not annoying your landlord!), future occupiers may not share your enthusiasm for lots of rubble and bricks under the flower beds or lawn!
10. Will the council take away my rubble?
No. In general, councils will not collect and remove rubble from homes. Rubble is DIY / builders waste which means that most councils exclude it from their council bulky waste collection service entirely. A few will collect small amounts of rubble but charge a supplement. Most, however, allow you to drop off small amounts at the local tip. For example, Surrey council don't accept rubble as part of their council's bulky waste collection service but allow you to take it to one of the local HWRCs.
11. How much does it cost to dispose of rubble?
Below are recent examples of rubble removal listings that were collected by licensed waste carriers on the LoveJunk marketplace. The exact charges varied depending on the amount of waste, the labour required to remove it, the location, and how quickly the waste had to be collected.
You can find out how much it would cost to dispose of some rubble or other construction waste using a local, licensed waste collector here. 
---